Jul. 21, 2014, under call to action, history, space t/e/d
It's been forty five years since the Apollo 11 mission first landed humans on another planetary body – the Moon: At 20:17:40 UT (4:17:40 pm EDT) on 20 July 1969, astronauts Neil A. Armstrong (Apollo 11 Commander) and Edwin E. "Buzz" Aldrin Jr. ("Eagle" Lunar Module (LM) pilot) landed the LM in Mare Tranquilitatis (the Sea of Tranquility). Meanwhile, the "Columbia" Command and Service Module (CSM) continued in Lunar orbit with CM pilot Michael Collins aboard. During their stay on the Moon, the astronauts set up scientific experiments, took photographs, and collected Lunar samples. The LM took off from the Moon on 21 July for the astronauts' return to Earth.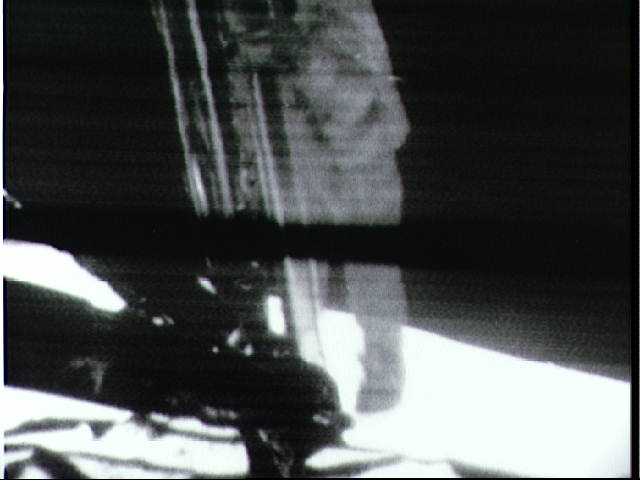 NASA photo ID S69-42583, taken by the Apollo Lunar surface camera as Neil Armstrong took humanity's first step onto another planetary body, the Moon
"One small step for [a] man, one giant leap for mankind."
From http://nssdc.gsfc.nasa.gov/planetary/lunar/images/a11tvarm.jpg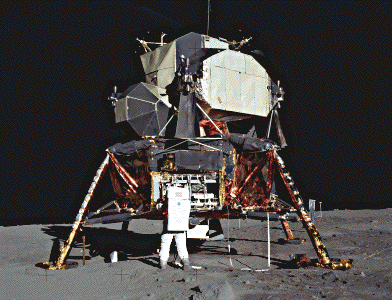 Apollo 11 Lunar Module on the Moon, NASA photo by Neil Armstrong
From http://nssdc.gsfc.nasa.gov/nmc/masterCatalog.do?sc=1969-059C
NASA's Viking 1 lander was originally planned to land on Mars coinciding with the US Bicentennial on 4 July 1976, but was delayed until a suitable landing site was located. As it worked out, the landing took place at Chryse Planitia at 11:56:06 UT on 20 July, roughly eight and a third hours less than exactly seven years after Apollo 11 had landed on the Moon. The robotic probe returned the first ever close-up pictures of the Martian surface, collected the first-ever samples taken from the surface Mars, and continued to communicate with ground controllers on Earth until 13 November 1982.

The first photograph ever taken on the surface of the planet Mars, obtained by Viking 1 just minutes after the spacecraft landed
From http://photojournal.jpl.nasa.gov/catalog/PIA00381
The Apollo missions continued through 14 December 1972 when Apollo 17 Mission Commander Gene Cernan returned to the LM "Challenger" ending the last Extravehicular Activity (EVA) of what would prove to be the final expedition of the program. As yet, No other humans have returned to set foot on the Lunar surface, foisting on Captain Cernan the dubious honor and title of being "The Last Man on the Moon." As illustrated by the L5 Development Group "Last Man on the Moon" T-shirt, I think it's (well past) time for us to go back: During the Apollo years, technology and science were advancing rapidly, the economy was booming, and it seemed as though anything was possible. We thought that within a few years there would be people living in space, and by the turn of the century, there would be hundreds, or even thousands, living on the Moon, with human exploration of Mars well under way.
"Somehow" the dreams got lost: President Nixon cut NASA's budget because space exploration "wasn't popular," just as NBC had canceled Star Trek because of its "poor ratings." Star Trek went on to become the most widely re-broadcast program in the history of television, and the general public still gets excited about space travel – when the news media lets them know something is going on. Look, for example, at the excitement that was stirred when NASA's Spirit and Opportunity rovers landed on Mars, and the on-going popularity of the intrepid rover Opportunity as it continues to explore more than ten years later.
Since the six Apollo missions that landed men on the Moon, no one has gone anywhere beyond low Earth orbit. NASA's Shuttle was supposed to be a "space truck" that would fly hundreds of times each year and drive the cost of access to space down. Instead, only 130 flights were made over the entire life of the program by the five spacecraft that went to orbit, two of which were destroyed in flight. Once they got done building the Shuttle, NASA had to find something to do with it, so they started working on a space station. Initially it was going to be a multi-disciplinary facility with a price tag of just a couple of billion dollars. By the time it was built, the International Space Station had lost most of the capabilities first envisioned. It had also ballooned into a hole in space that will have sucked in between $150 and $200 billion by the time it's currently planned to be retired in 2028. The ISS is "permanently occupied" by a (constantly changing) crew of 6, but the U.S. doesn't have a way of its own to get astronauts there now that the Shuttle has been taken out of service. In many ways, the question of "what is it there for?" is still unanswered.
The thing that's missing from this picture is commercial development. Space programs have been the playthings of governments, subject to the whims of whoever is in power at the moment and their perception of what their subjects (the public) want. Until there's a profit to be made, nothing else is going to happen. Witness the development of airplanes in the early twentieth century: The first ones were fragile machines cobbled together by experimenters trying out new gadgets, but they weren't widely available until enterprising types found they could charge passengers for fast travel between distant points and the airline industry evolved. True, the U.S. government helped make those initial airlines more profitable by taking contracts for delivery of mail, but airplanes became ubiquitous by selling something valuable – fast transportation – to private individuals at a relatively low cost.
It's true there are space business market segments that are already well established and profitable: Satellites in geostationary orbit provide television programming and communication around the globe. The U.S. GPS constellation enables drivers who would otherwise be lost to get to their destinations. Weather satellites let us plan picnics and find out when schools will be closed by snow, and Earth resource data from space is used in a broad range of industries. Robotic satallites have permanently changed the way we live, and the companies behind them are making solid profits, even though their entire staff is still on the ground.
The human space flight industry, however, basically doesn't exist. There are companies such as SpaceX and Orbital Sciences making "commercial" cargo flights to the ISS, and SpaceX is well along toward developing their Dragon capsule for carrying crews there. Lockheed Martin and Astrium are building the Orion Multi-Purpose Crew Vehicle for NASA and the ESA, assuming public funding continues throughout the program's development. Bigelow Aerospace, while still proposing their own network of low-cost space habitats, is now building an inflatable module to be attached to the International Space Station. These are all government projects, though, technology looking for a market, not businesses selling something valuable to private individuals.
This is where Space Power Now fits in – the immediate commercial project of The L5 Development Group space program. Space Power Now is promulgating a constellation of solar power satellites in geostationary orbit. Those satellites will collect solar power in space where the Sun is always shining and cheaply beam it to the ground for consumption by everybody on the planet in lieu of fossil fuels that are both in limited supply and damaging the environment. Simply building those satellites is going to create millions of jobs; operating and maintaining them once they are installed will require a significant permanent human presence in space.
Visionaries in the space travel, exploration and development (space T/E/D) field know there are unimagineable benefits that will come from opening space and the resources "out there" to make them available for the benefit of humanity. We know there's energy from the Sun that can eliminate our dependency on fossil fuels. There are more resources just within our Solar System than we could use in thousands of years. From the research that's been done on the International Space Station, we know protein crystals can be grown in microgravity to help cure diseases that would otherwise be intractible. What we don't – and can't – know is how much more we're going to find after we have actually started getting out and exploring a lot beyond Earth.
Once we get to where there's a critical mass of infrastructure in space, it will be a lot easier for smaller businesses to get a piece of the space pie: Rather than having to figure out how to get to space in the first place, entrepreneurs will be able to focus on what they're going to do once they are there. That's another reason why Space Power Now is such an important project: By undertaking a project requiring thousands of launches, it will enable launch companies to develop capabilities that bring costs down, and make travel to space almost as mundane as a flight across the ocean.
Please visit the Space Power Now site, and become part of the project. I really believe our future depends on it!
BTW, I feel sorry for the "22% of Americans in 2009" who don't believe we ever went to the Moon. I know better – and I am anxious to get us back there…